With the help of a video editor, you can easily turn an hour-long presentation into a youtube-ready promotional video. This Invideo Review the Best Online Video Editor For Youtube in 2023 can be used to quickly create a viral video that garners millions of views.
Creating a video from a raw file is by no means an easy process. No matter how fancy your software is, you will still require some way to put the footage together and make it look good.
That is where InVideo steps in. InVideo is one such video editing software that is packed with a vast array of functionalities. It has a high-end design, a powerful editor, and a sleek interface.
It is a great option for those who want to make professional-looking videos with their footage. It is one of the most powerful tools in the market that lets you edit professional HD videos without the need for downloading any software.
InVideo will help you turn your videos into professional videos without any hassle. This article will help you see why InVideo is a powerful, online video editor.
What is InVideo?
With invideo.io, you can create engaging videos from scratch with just a few clicks of the mouse. No download is required.
Invideo is a powerful online video editor with 5000+ ready templates, Stock media, Free music library, Amazing filters, Smooth transitions, and much more. Create videos in minutes with a simple drag and drop interface that is available for PC, Mac, and Linux.
There is a free version available as well as a premium version which has even more features, such as a professional voice-over.
InVideo is compatible with all modern browsers, and it's also a mobile video editor. It also includes a low-priced monthly subscription to remove the watermarks and access lots of pro features that helps you create viral content.
How can you use InVideo?
To use invideo.io, you can use the browser-based editor on any device Desktop, or Smartphone. The editor is very easy to use and it has a good learning curve.
In this Invideo Review You'll explore all the features You can use to create a video, add text, change colors, and add filters.
You can also use the editor to add music to your videos and iStock images to your videos. If you want to use invideo.io on your desktop computer, you'll no need to download anything.
Because InVideo is a Web browser-based tool & a Must have equipment that provides you access from anywhere, any device, and any time, whenever you need it.
But the only thing you need to access its free or Premium features is an account, which is absolutely free to create using an Email id.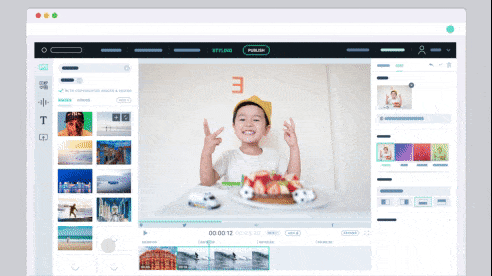 What features does InVideo have?
It has been designed to be easy to use and is suitable for both professionals and beginners. InVideo has been designed to make your video marketing more efficient and effective.
It comes with a variety of features such as the ability to add filters and transitions, upload your own stock media and music library.
The ability to add text and graphics to your videos, InVideo also comes with a free version for beginners as well as 2 paid plains we'll be talking bout next in InVideo Review.
Drag And Drop Interface: It has a drag and drop interface timeline and allows you to upload your own creative videos, images, or even voice to sync with the video. It is easy to use and allows you to create a video without the need for any design skills.
Customizable Templates: What makes InVideo so unique is that it uses thousands of customizable templates and allows for instant video production. You covered 5000+ customizable templates in 20+ different categories that can be created in a few minutes. The best way to create a promotional or content video for YouTube, promos, product videos, intros, infographics, presentations, and more.
Videos, Photos & Music Stock: InVideo has a huge 8+ million library of royalty-free, high-quality stock footage, photos, and music tracks from iStock, Storyblocks, Shutterstock. It has been designed to help you make high-engaging video content for your Youtube, Business, or brand from scratch without any hassle. Without Even Importing Your Own Footages.
Video Editing Features: InVideo's tools are easy and intuitive, From adding text to a video to cropping and trimming. The timeline is minimal that helps you manage all at once without bothering. You can also add stickers to the video and transition it to a different scene. This is all makes interesting, eye-catching but effective videos for marketing purposes.
Audio Editor Tools: Al like a Professional Videos editing software for PC, you get an audio editor tool as well so that you can Trim, Fade-in & out, Loop, Voiceover. Even use your own audio file to make it 100% natural for the targeted audience.
Add Your Team: It also has a feature that allows you to add Team Members to a project, which makes it easier to share with other members of your team. This is a great feature for any company that is working with a large team. So that using the ability to add team members to create, edit, comment, and share your videos together with your team.
What makes InVideo so unique?
What makes InVideo so unique is that you can use it to create videos like a professional content creator. There are a lot of video editors out there, but most of them are highly-priced.
InVideo, on the other hand, is not just free, it's also professional. This is because it comes packed with 5000+ templates, iStock media, music library, filters, transitions, and much more.
InVideo has been used by professionals in the following industries: Marketers, Content creators, and Video Experts.
Drag And Drop Easy Interface: InVideo is a free online video editor that makes it easy for anyone to drag and drop content into a timeline. InVideo has a drag and drop interface with easy-to-use menus that makes it easy to use for everyone. The interface is designed with simplicity in mind so that anyone can quickly make a timeline to work with.
Convert text to video: InVideo is unique because it works without any coding or special software. It's a great tool that allows you to create professional videos using text and images. Just put your Tittle, Text, Scene, and Music. The rest is on Tool.
Start with Ready To Use Templates: InVideo has over 5000 customizable templates that are easy to use, and professionally designed to make your videos look and sound great. Specially designed for marketers, content creators, and video experts, for creating ads, promos, YouTube, intros, Affiliate Content and more.
InVideo Review: Pros and Cons
InVideo is an online web-based tool that can be used online only so you can't use this offline on your desktop.
But there are so many advanced features that make it worth having for Youtube Creators, Marketers, Businesses, and brands to create high converting promotional videos, intro, presentations, etc. that is Going to help you make more money.
Just because it's an online web tool you'll miss high-end editing tools to create heavy videos that you do on Professional software.
Let's take a look at the Pros and Cons before having this tool-
InVideo Review: Plan And Pricing
InVideo offers 3 plans – Each plan is different than others and has some special features when you upgrade for a paid membership.
Free Plan – for people who want to be able to use InVideo that includes a watermark on video but gives you 40 minutes video duration with automated text to speech feature.
Business Plan – For small businesses, educators, and influencers who wanted to create professional videos without watermarks and looking for IStock Media that they can even access on Mobile Phones.
Unlimited Plan – For agencies and multiple teams without watermark and access to unlimited export video in HD quality, mobile app including as well.
The business plan is $45/m and the unlimited plan is $89/m with no watermark on videos. you can also avail 50% discount on an annual subscription.
Frequently Asked Questions
Let's have a look at the queries people often ask on google. We'll try to give you the best possible answer in the easiest way so that you won't have any further doubt after reading this InVideo Review.
Is InVideo free and safe?
InVideo is a web-based online tool absolutely safe and free to use. But you'll only get access to a few free features including their watermark which I think is the worst thing. But you can have a paid plan to upgrade yourself and to get access to a lot of amazing features.
Does InVideo cost money?
Yes, InVideo does cost money. There are 3 plans that you can choose from: Free, Business, and Unlimited. The Business plan is about $45/m and the Unlimited plan is $89/m. All plans include advanced Templates, Stocks library, Music, and the removal of watermark on your video.
What is InVideo used for?
InVideo is a cloud-based online video editing tool that helps you create, Edit, and Design high-quality Engaging videos from anywhere, on any device for marketing, Business, Youtube, etc. InVideo is currently being used by companies around the world to create videos for Youtube and the web.
Does InVideo have a watermark?
Yes! InVideo has a watermark only if you use the Most basic free plan with standard features. But you can use a watermark less with the most advanced features buying their Monthly or Annually Business or Unlimited Plans.
Wrapping Up!
InVideo is an online video editor that can be used on any device, anywhere to create simple but high-engaging videos simply by drag and drop elements.
It is one of the most comprehensive video editors out there and it has a great price point. It's also great for YouTubers, marketers, Businesses, and brands that are already using it to make their promotional video next level.
We hope you enjoyed reading this detailed InVideo review for one of the best online video editors. We are so excited to share more of our knowledge and insight with you.
If you have any questions or comments, please feel free to reach out to us at @bhardwajzone. Thank you for reading and have a great day.